Congratulations to our 2020 All-State Journalism Team!
May 20, 2020
---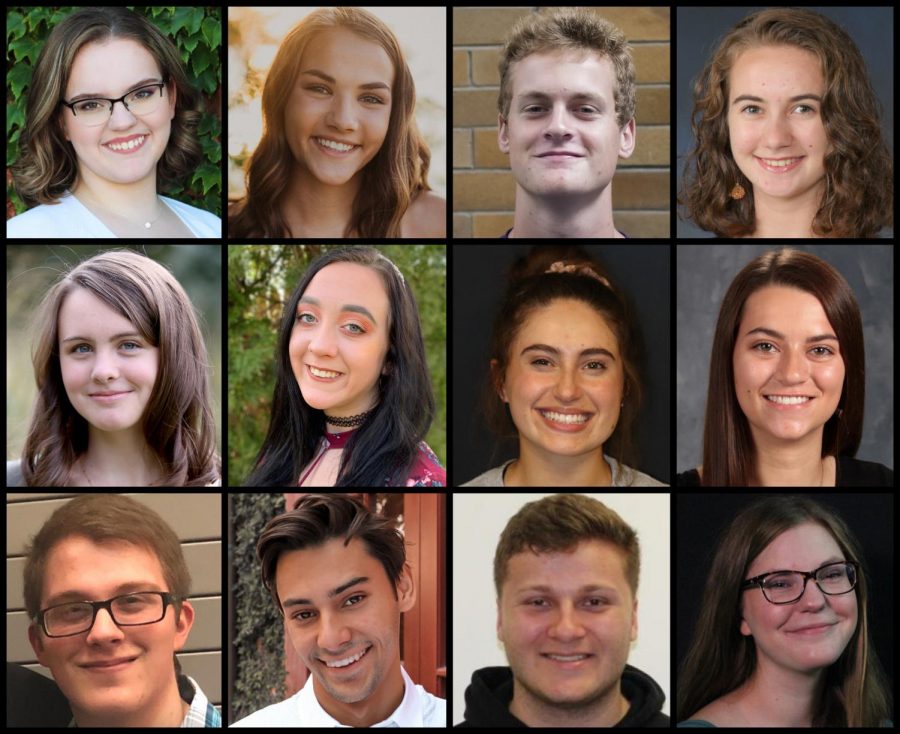 ---
The Illinois Journalism Education Association is proud to announce the members of the 2020 All-State Journalism Team. The 12 students selected for the honor were nominated by their advisers in recognition of the indispensable contributions they made to their publications during 2019-20:
• JAN ABEL
Senior, Galesburg High School, editor-in-chief, GHS Budget newspaper
• CARSON BIERMAN
Senior, Oswego East High School, editor-in-chief, Wolf's Eye yearbook
• SAM BULL
Junior, Downers Grove North High School, editor-in-chief, The Omega newspaper
• AMANDA CASSEL
Junior, University of Chicago Laboratory High School, managing editor, U-High Midway newspaper
• SOPHIE CONVERSE
Senior, Richwoods High School, editor-in-chief, Excalibur yearbook
• ANASTASIA CORRERA
Senior, McHenry High School, copy editor, McHenry Messenger newspaper
• GRACE GIVAN
Senior, Prospect High School, editor-in-chief, The Prospector newspaper
• GRACE HUTCHISON
Senior, Villa Grove High School, editor, Vade Mecum yearbook
• ROBERT LE CATES
Junior, Meridian High School, layout editor, Meridian Moments yearbook
• ALEX MIRANDA
Junior, Downers Grove South High School, video news director, Blueprint newspaper
• REID WATKINS
Senior, Normal Community High School, sports editor, NCHS Inkspot newspaper
• KAYLA YAKIMISKY
Senior, Huntley High School, editor-in-chief, Harmony yearbook
In addition to being nominated by their advisers, the students also submitted work samples, reflective essays and other supporting material for consideration by a panel of judges. For more information about each of our 2020 team members, please scroll down to the section titled "Meet Our Honorees for 2019-20."
---
About the IJEA All-State Journalism Team
---
The All-State Journalism Team began in spring of 2005, when the IJEA recognized a need to honor those students who have proven themselves indispensable to their respective school media, including but not limited to yearbook, print or online newspaper, print or online newsmagazine or broadcast media.
The students named to the All-State team are considered by their advisers and fellow publication members as "most valuable players" — those students whose leadership, energy, dedication and expertise not only make their publications possible, but whose main contributions often occur behind the scenes.
This award elevates student journalists who've put their publications ahead of themselves. They're the ones who are willing to sacrifice their spare time to make sure other people's stories are well edited. They're the ones who make sure a publication's pages are smartly designed, the headlines witty, the photos well composed, the website up to date and easy to navigate, the videos smoothly produced and the information in every story accurate. They're the ones who don't seek recognition but deserve it most of all.
To be eligible for the honor, students must be nominated by their respective publication advisers. A panel of judges consisting of experienced journalism educators makes the final selections.
Congratulations to all who were named to this year's team — and to all who were nominated!
---
Meet Our Honorees for 2019-20
---
Jan Abel
Galesburg H.S. | Galesburg, Knox County | Brad Bennewitz, adviser
Senior Jan Abel is editor-in-chief of the GHS Budget newspaper at Galesburg High School. In addition to all the "usual" duties of an editor-in-chief, she has been solely responsible for the redesign and upkeep of the newspaper's online content and has created a weekly video series called "60-Seconds With a Streak."
Her advisers are Brad Bennewitz and Mandy Stegall. In his nominating statement Mr. Bennewitz said: "Jan Abel was a future editor-in-chief almost from the minute she walked into Galesburg High School's journalism lab. She was eager to learn and quick to tackle an interview or story at even the slightest direction. Two years later, she became the primary leader for the senior issue, directing the staff and putting in countless hours, determined to meet an impossible deadline. Jan 'gets' journalism. She has no qualms about reaching out to district leaders or to the shyest student in school to capture the essence of a story. As uncomfortable as she is with photography, she does not hesitate to grab a camera to get the necessary photos. Jan's leadership shows entirely through her actions, although she does not shy away from 'tough talk' when necessary to hold staff members accountable."
---
Carson Bierman
Oswego East H.S. | Oswego, Kendall County | Colleen Calvey, adviser
Senior Carson Bierman is editor-in-chief of the Wolf's Eye yearbook at Oswego East High School. She mentored staff by teaching photography, design and interviewing; shot and edited photos; led coverage discussions; wrote and edited theme copy; designed pages; and helped manage social media accounts.
Her adviser is Colleen Calvey. "Carson Bierman's name won't appear on many pages in the Wolf's Eye yearbook, but without her this book would not have been published on time," Ms. Calvey said. "In my 20 years as an adviser I have never worked with a student so dedicated to telling the story of the year. Her motto was to 'be bold and tell stories,' and she held herself and her staff to this standard. Our staff tripled in size this year. Without Carson I would never have managed the paperwork much less built camaraderie between class periods. Carson built a rapport by dedicating time to building community; she created a safe space where the staff felt comfortable sharing ideas and critiquing work. The result was a unified book and relationships that exist outside the classroom walls."
---
Sam Bull
Downers Grove North H.S. | Downers Grove, DuPage County | Liz Levin, adviser
Junior Sam Bull is editor-in-chief of The Omega newspaper at Downers Grove North High School. It's a position that required him to lead story brainstorming and post-issue critique sessions as well as conference with student writers. He also redesigned the newspaper's website and reimagined The Omega's social media effort.
His adviser is Elizabeth Levin. "One of his areas of special focus this year has been the online newspaper," Ms. Levin said of Sam. "We are still primarily a print publication  — our website generates little traffic — but he is working to change that. Early in the year, he redesigned the site and reimagined the way that we promote social media. Our editorial staff is quite small this year, just 10 students, yet he ensures that our site remains current by cajoling his fellow editors into working hard and keeping up with the news. Sam makes journalism a priority. While he aides for the program during his lunch period he tutors students. Students who need help naturally seek Sam: he is bright and encouraging. When he doesn't know something, he's honest and promises to get back to them. These qualities encourage students to trust him with their own academic insecurities."
---
Amanda Cassel
Univ. of Chicago Laboratory H.S. | Chicago, Cook County | Logan Aimone, adviser
Junior Amanda Cassel is managing editor of the U-High Midway newspaper at the University of Chicago Laboratory High School. In her role as an assignment editor and writing coach, she mentors reporters and contributors. She also oversees deadlines, edits stories and designs pages, and collaborates with her peers.
Her adviser is Logan Aimone. In his nominating statement Mr. Aimone said: "Through experimentation, Amanda learns and leads. Over the past two and a half years, she has acquired a diverse set of skills and grown to become an outstanding journalist. She's willing to give every opportunity a try, often pushing herself beyond any expectations. The results are impressive: talented writer, creative designer, supportive coach. In February, she developed plans for a schoolwide mock presidential primary election, part of two pages of comprehensive coverage produced by a team she led. Being the designated leader was a new experience for her, and she deployed her team to cover all aspects of the primary election, even as candidates dropped out and key issues changed."
---
Sophie Converse
Richwoods H.S. | Peoria, Peoria County | Dr. Dan Kerns, adviser
Senior Sophie Converse is editor-in-chief of Excalibur yearbook at Richwoods High School. Her work this year included developing the theme and designing the book's cover. She also provided the leadership that allowed the staff to adapt to new ways of gathering story information and to deal with the emotional uncertainty of the "shelter-in-place period."
Her adviser is Dr. Dan Kerns. "Sophie was dedicated to carrying on the tradition of excellence of our publication," Dr. Kerns said. "She embraced the challenge of creating a yearbook that would rival the successful publications of previous years. … But a leader of the yearbook has to be more than just a visionary. They must be able to lead the staff. When crunch time comes, and it does, they must be able to see and guide the book to a successful conclusion. This is trying under normal circumstances; add in the COVID19, and it magnified. … The shy, soft spoken artist that took the reins of the yearbook in September was transformed over the year and developed into a leader, who, although still soft spoken, found her voice. With the confidence gained throughout the year, she oversaw the production of a quality yearbook in the most trying of circumstances."
---
Anastasia Correra
McHenry H.S. | McHenry, McHenry County | Dane Erbach, adviser
Senior Anastasia "Stacy" Correra is copy editor for McHenry High School's McHenry Messenger newspaper (print and online) as well as features editor for The Warrior yearbook. For the Messenger, she pitches and writes her own stories, in addition to editing others' work; for The Warrior, she manages a team of feature writers.
Her adviser is Dane Erbach. In his nominating statement Mr. Erbach said: "Her willingness to step up shows a relentless leader who has what it takes to get the job done — which, in scholastic journalism, is among the most important qualities. One time, one of our writers was working on a sensitive story—about how student athletes feel pressure to make unhealthy decisions, including cutting weight or not reporting concussions. … Stacy worked at the eleventh hour to gather more perspectives, to clarify the ideas expressed in the story — and, of course, to edit it for spelling, grammar, syntax and style. This story earned our paper some recognition, but is only one example of a story that would not have been published without Stacy."
---
Grace Givan
Prospect H.S. | Mt. Prospect, Cook County | Jason Block, adviser
Senior Grace Givan is editor-in-chief of Prospect High School's The Prospector newspaper. Her responsibilities include guiding writers' stories towards success, applying problem-solving skills to unexpected obstacles, spearheading team initiatives, upholding staff morale and leading with a combination of authority and compassion.
Her adviser is Jason Block. "She leads the staff with a combination of authority and compassion, and much of what we accomplished as a program this year is attributable to her leadership," Mr. Block said of Grace. "We have taken on controversial subjects countless times, and Grace is always at the forefront of the decision-making process, helping determine the most responsible way in which to cover it. Yet my favorite part of her leadership is watching her brainstorm page design with her staff. Much like she does with her peers' stories, Grace won't let an average layout slide by. She pushes them to think outside the box and make our newspaper as visually appealing as it can possibly be. She inspires her younger staff members to be more like her in everything she does, and that's pretty much the biggest compliment that can be paid to an editor."
---
Grace Hutchison
Villa Grove H.S. | Villa Grove, Douglas County | Brian Cordes, adviser
Senior Grace Hutchison has been editor of Villa Grove High School's Vade Mecum yearbook for the past two years. This year she guided a transition to a book that includes embedded multimedia content. Besides editing the book, she is also responsible for fundraising, sales and distribution, and she contributes weekly to The News-Gazette in Champaign-Urbana with reporting about her school.
Her adviser is Brian Cordes. "Grace Hutchison has been an instrumental part of making this year's publication of Vade Mecum the best we have ever produced," Mr. Cordes said. "Much of the increase in both quality and content are a direct result of her continued passion to push things as far as she can while being prepared for things to not work perfectly. … In recent weeks, Grace has been faced with the monumental task of covering the Coronavirus. Not only does this sickness have our plans for the entire last quarter of the year up in the air, but we have to responsibly report on the event as it relates to our community. She has done very well in planning for any potential outcome, yet she has still gone back to the drawing board multiple times. Getting this right is something which Grace insists upon, as she realizes how important this account of events will be for future generations."
---
Robert Le Cates
Meridian H.S. | Macon, Macon County | Sheila Moore, adviser
Junior Robert Le Cates is layout editor for Meridian High School's Meridian Moments yearbook. In addition to assisting the editor with planning and layout and creation of a design style guide, he has trained staff and critiqued and managed design. He has also contributed to the Meridian Daily newspaper.
His adviser is Sheila Moore. In her nominating statement Ms. Moore said of Robert: "This young man will take home books on design trends, copywriting, layout, theme development every chance he can get. The next day he comes in, book full of sticky notes, to ask questions. He is a resource to my other staff members, checking in on them, asking questions to figure out how best to guide them. He is a true asset. He is enough of an asset that, while I'm faced without a strong candidate for EIC of our online newspaper next year, he has started taking home journalism books to learn news writing. He was determined that his first article would get published in time to include as one of his pieces of work for this competition. I will publish his first article in a few moments, then prepare the announcement to name him EIC of both publications next year."
---
Alex Miranda
Downers Grove South H.S. | Downers Grove, DuPage County | Mary Long, adviser
Junior Alex Miranda is the video news director for Downers Grove South High School's Blueprint newspaper and writes in every section for both the print and online versions. He manages all videos and digital story-telling, plans broadcast stories, assembles teams and edits packages. He often writes editorials as well.
His adviser is Mary Long. In her nominating statement Ms. Long said of Alex: "He is a well-rounded journalism student, and the Blueprint would not be as strong without him. Alex brings an eloquent writing style, talent in video production, and an attitude that is totally contagious to the newsroom. … Alex is passionate about making videos. He has dedicated a lot of his time this year to perfecting his craft. He is concerned about framing the shot, how other visuals help or detract from the story, and how his editing tells the story. He makes sure to interview a wide variety of sources. He is diligent about interviewing people that reflect our viewing audience. DGS is a diverse school, and his sources always reflect this. He wants his video packages to tell stories of all sorts of students. He is always thinking about whose story we haven't told."
---
Reid Watkins
Normal Community H.S. | Normal, McLean County | Brad Bovenkerk, adviser
Senior Reid Watkins is in his second year as sports editor of Normal Community High School's newspaper, NCHS Inkspot. His primary responsibilities are writing, reporting and editing for the sports desk and managing the staff. He is also the paper's beat reporter for girls basketball and serves as broadcaster for the baseball and girls basketball teams.
His adviser is Brad Bovenkerk. In his nominating statement Mr. Bovenkerk said: "Reid has been incredibly self-motivated in improving our journalism program — he has coordinated with other students to set up photo shoots, he has taught other students how to set up the live-streaming equipment and how to run the video camera, but his biggest contribution has been providing a voice to often overlooked athletic programs. Reid worked to expand our coverage beyond just varsity athletics, beyond just football and basketball, to provide access to the stories of every program: swimming and diving, cross country, tennis. Reid understands that a journalist doesn't just tell the popular stories and that everyone has a story to tell. He recognizes the gaps in our local paper's coverage and used the student publication as the outlet for those less focal athletes."
---
Kayla Yakimisky
Huntley H.S. | Huntley, McHenry County | Lauren Teeter, adviser
Senior Kayla Yakimisky is in her second year as editor-in-chief of the Harmony yearbook at Huntley High School. Her responsibilities include those of design editor, people section editor and copy editor as needed. In addition to these roles, she trains and empowers new writers, designers and photographers.
Her adviser is Lauren Teeter. "From entering the room each morning with a bright smile and loud, cheerful 'hello' to passing out personalized notes to each staffer, Kayla's positive attitude is natural and absorbed by those around her," Ms. Teeter said. "What I believe to be her greatest strength is her leadership ability. She has a way of connecting with her fellow students while also maintaining an authoritative and demanding role as a leader. Staff members enjoy working with her and for her. When there were rumors that our school would be moving to remote learning due to COVID-19, Kayla immediately organized the staff to brainstorm how to best tackle the end-of-the-year coverage. She didn't miss a beat. Additionally, she kept staffers (and me!) calm — quite the feat."
---
IJEA All-State Journalism Teams Since 2004-05
---
Our 2020 honorees join a long line of distinguished high school journalists who have earned All-State recognition since the competition began during the 2004-05 school year. Congratulations to all of our past winners, and we look forward to honoring many more outstanding scholastic journalists in the years to come!
---
---
---
---
---
---
---
---
---
---
---
---
---
---
---
---