2009 All-State Journalism Team
---
Meet Our Honorees for 2008-09
---
Daniel Bolsen
Sports editor and editor-in-chief
Panther Prints newspaper
Lovington High School
Adviser: Carol Smith
Gabriel Bump
Co-editor-in-chief
U-High Midway newspaper
University of Chicago Laboratory High School
Adviser: Wayne Brasler
Mandy Facer
Staff writer
The Echo newspaper
Urbana High School
Adviser: Heather Snapp
Margaux Henquinet
Copy writer
The Prospector newspaper
Prospect High School
Adviser: Jason Block
Jimmy Hibsch
Co-editor-in-chief
The Pacer newspaper
Rolling Meadows High School
Adviser: Stan Zoller
Laura Kraegel
Editor-in-chief
The Correspondent
John Hersey High School
Adviser: Janet Levin
Jordy McNamara
Managing editor of content
Adlai E. Stevenson High School
Adviser: Barb Thill
Danielle Schuck
Editor-in-chief
The Guardian newspaper
Elk Grove High School
Adviser: Alissa Calabrese
Marina Shawd
Editor-in-chief
Equus yearbook
Belvidere North High School
Adviser: Mike Doyle
Molly Williams
Sports editor and editorial board member
Purple Clarion newspaper
Harrisburg High School
Adviser: Cathy Wall
---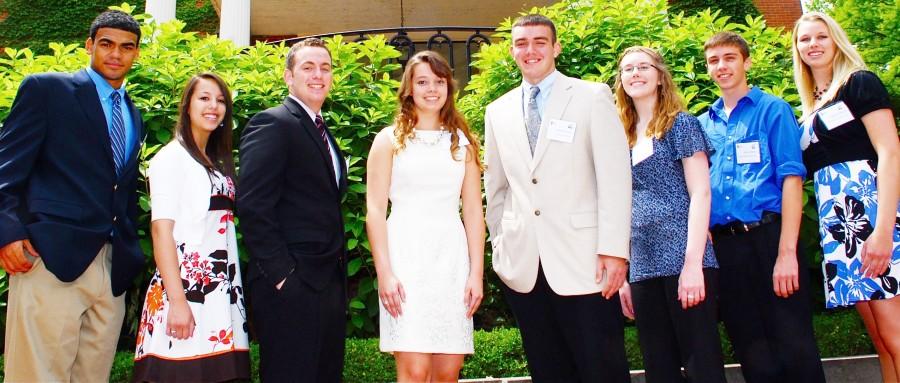 ---
MEET THE TEAM
Daniel Bolsen is the sports editor and editor-in-chief of the Panther Prints newspaper at Lovington High School. At a small school, you often have to it all, and Bolsen does because he has a passion for journalism. He reads several area newspapers each day and handles tough news stories when they arise. He writes stories, designs pages, teaches the design software, assigns stories … the list goes on. And he does it all on his own time as newspaper is an outside activity. His samples included a story on an alumnus, one of his columns and a page he designed. He is advised by Carol Smith.
Gabriel Bump is a senior at University High School in Chicago, serving as one of U-High Midway's five editors-in-chief. Gabriel's work as someone who develops content and mentors the staff is admirable, but his work with his in-depth reports soar, especially his piece on youth violence in Chicago. His writing is sophisticated, and his approach is thorough and thoughtful, combining solid facts and statistics with the human element. His samples included the series on youth violence in Chicago and a sports column about Chicago, Obama and the city's bid for the Olympics. He is advised by Wayne Brasler.
Mandy Facer started as a volunteer on The Echo newspaper of Urbana High School who wrote movie reviews, wanted feedback and always met deadlines. She quickly became adviser Heather Snapp's most valuable staffer. She often writes up to three stories an issue, but not all she contributes is credited with a byline. She demonstrates being a team player by tracking down names, taking last-minute photos and helping other staffers with their stories. A staff writer, her samples included a team-reporting effort on mock elections and a story on the annual yearly progress report.
Margaux Henquinet is a copy editor for The Prospector newspaper at Prospect High School. She routinely reads numerous drafts of stories for all sections and gets the stories back to the writers in a timely fashion. She gives feedback, identifies missing sources and unexplored angles and does that for all drafts. She is tough without being mean, and the staff responds positively to her. She never makes excuses; she simply gets the job done. She also writes articles, often earning top classroom honors for them. Her samples included a staff editorial on the election and on falling asleep in class. In addition, she also demonstrated how she copy edits stories. She is advised by Jason Block
Jimmy Hibsch is the co-editor-in-chief of The Pacer at Rolling Meadows High School. Making his second appearance on the All-State team, Hibsch inspires his staff. He works with younger staff members to help them improve their writing while he models the energy and spirit vital to encourage them to work harder, too. And he helps his staff see content in a larger context. As a result, the paper now covers both the school board and the district administration, which has helped increase readership. His samples included a piece on the 50th anniversary of the Our Lady of the Angels and soccer team's cancer awareness. He is advised by Stan Zoller.
Laura Kraegel is the editor-in-chief of The Correspondent newspaper at John Hersey High School. She was the one left in the newsroom to revamp pages for breaking stories or to agonize over potential troublesome stories — and lose sleep in the process. She has had to work outside her comfort zone, but she does not disappoint, creating photos, podcasts and reviews, whatever needs to be done. She gets so excited about the news cycle and equally excited about distributing the final product. And she handles comments or criticism to the paper with professionalism. Her samples included a story on controversial activist Bill Ayers NOT speaking at her school and math department changes. She is advised by Janet Levin.
Jordy McNamara is the managing editor of content at Stevenson High School. In this role he took care to cover issues of concern for his school, including prescription drug overdoses and recycling. And when it came to fighting for his staff and his adviser, McNamara used his leadership to help them navigate the administration's call for prior review. As the managing editor of content, most of the worry fell on his shoulders. According to his adviser, Barb Thill, "the pros and cons of any story that had the potential to upset administrators were weighed. Jordy … often ended up playing devil's advocate." He led his staff with class and professionalism. His samples included a piece on students sleeping in class and on the economic downturn.
Danielle Schuck is the editor-in-chief of The Guardian newspaper at Elk Grove High School. Schuck is respected by others on the staff for the way she gives feedback, the way she enforces deadlines and keeps others on task. After each issue the staff holds a discussion on strengths and weaknesses, and she gives honest feedback and motivates each staff member to improve. Additionally, one of her strengths is her balanced and well-researched stories written with finesse. Her adviser, Alissa Calabrese, writes that Danielle's stories "capture the authentic voice of Elk Grove students, as she always remembers to keep the student connection in her stories." Her samples included a piece on HPV vaccine, on a flag the school received and an opinion piece on pep assemblies.
What a year this has been for Marina Shawd, editor-in-chief of the Equus yearbook at Belvidere North High School. While she come into the 2009 yearbook with a clear theme and a vision for its development, she was thrown a curve when the book went to a web-based production. But Shawd rose to the occasion, meeting all deadlines by creating detailed and consistent templates. She is humble yet moves her staff in a like direction. Her samples illustrate her strong design talent with a cover, opening page and sports spread. She is advised by Mike Doyle.
Molly Williams is a passionate member of the editorial board and the sports editor for the Purple Clarion newspaper at Harrisburg High School. She took the sports position (although she would have preferred news or features) when there were no other volunteers, which is emblematic of the grace with which she does whatever is needed. She helps new staffers, and she often had to take pictures for her section as well. Her samples included an editorial written to explain her school board's proposals for changes to the prior review policies and one on concussions and the dangers athletes face with them. She is advised by Cathy Wall.
---