Join the IJEA
---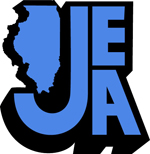 ---
Become a Member!
---
Illinois Journalism Education Association
900 Community Drive
Springfield, IL 62703
(312) 341-6761


[email protected]
---
Thanks for considering membership in the Illinois Journalism Education Association! If you choose to join for one year, your 2021-22 membership will be good from July 1, 2021, to June 30, 2022. You also have the option of becoming a lifetime member. Either way, we look forward to working with you and your students!
---
2021-22 Membership (with Lifetime Option)
---
You may use either form — online or PDF — to join IJEA for the 2021-22 school year. Membership takes effect on July 1, 2021, and ends on June 30, 2022. Each form contains an option for lifetime membership.
If you choose the PDF option, fill out the form and mail it to IJEA treasurer Jenn Galloy. (Complete instructions, including mailing address, are on the form.)
---
Joining the National JEA
---
Please note that both options listed above allow you to join national JEA as well. If you join IJEA and JEA using either form, we will receive $5 back from national JEA — an easy way to help us financially!
---
Why Join IJEA?
---
We can think of lots of good reasons to join IJEA, but let's stick to an even dozen. For just $25 per year, your IJEA membership allows you to do the following:
Be part of an organization that led the charge for an Illinois student media bill, signed into law in July 2016, that significantly strengthened protections for student journalists and their advisers. We advocate for you!
Enter your students' work in our annual yearbook and newspaper/digital news media contests.
Waive the entry fee for one of our publication contests (yearbook or newspaper/digital news media).
Nominate your top senior for Illinois Journalist of the Year and our $300 prize.
Nominate your MVPs for our All-State Journalism Team.
Apply for or nominate others for our annual top scholastic media educator award.
Nominate administrators and friends of scholastic journalism for recognition.
Receive email updates on the latest news in Illinois and national scholastic journalism.
Receive mentorship from our experienced advisers.
Support our fall conference at the University of Illinois at Urbana-Champaign — each year our conference energizes students and advisers with expert breakout sessions, hands-on learning opportunities and an inspiring keynote address.
Support our state tournament partnership with IHSA — since the 2005-06 school year we've worked with IHSA to put on a statewide journalism tournament that begins with sectionals and culminates in a state final that crowns individual and team champions.
Enjoy the backing and fellowship of a statewide organization devoted to scholastic journalism — you're not alone out there! With IJEA, you have likeminded women and men around the state ready to assist you when you need help and eager to celebrate with you when your students produce great work.
---
Membership and IJEA Contests
---
IJEA membership is required for participation in our contests, including Illinois Journalist of the Year and the All-State Journalism Team. Our annual membership fee is only $25 per adviser (or $250 to become a lifetime member). If you advise two or more publications, your single membership fee will qualify all of your publications and students for IJEA contests.
If a school's various student media (e.g., yearbook, print newspaper, online news site, broadcast network) are advised by separate individuals, only those media whose advisers belong to IJEA are eligible to compete in our contests. Upon joining IJEA, each adviser is entitled to enter one of our two annual publication contests (yearbook and newspaper/digital media) for free.
---
IJEA's Partnership with IHSA
---
Our partnership with IHSA in the annual staging of the IHSA journalism tournament is an excellent example of how IJEA works on behalf of Illinois journalism students and advisers.
IJEA leaders were instrumental in creating the tournament, which launched in April 2006. Since then, IJEA members have continued to be closely involved in the competition. From 2006 to 2018, then-IJEA executive director Dr. Sally Renaud managed the state final at Eastern Illinois University in Charleston. IJEA members continue to manage or co-manage sectional sites.
Over the years, the IHSA tournament has become a fixture of Illinois high school journalism. For the story of how IJEA worked with IHSA to create the tournament, click here. For other information relevant to membership in IJEA, see the links below.
---
What Region Is Your School?
---
Our association is organized into six regions. Each region is represented on the IJEA Board by two elected regional directors. To see where your school is located within our regional divisions, please visit the IJEA Regions Map.
In the meantime, we look forward to hearing from you, and good luck to you and your students!
---