IJEA James A. Tidwell Award
---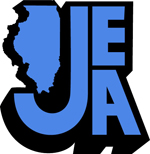 ---
Honoring Great Journalism Educators
---
Submission Deadline: March 15
---
Before 2014, IJEA's highest honor for journalism teachers and advisers was known as the Illinois Scholastic Journalism Educator of the Year Award. It was renamed in memory of Prof. James A. Tidwell, longtime Eastern Illinois University journalism professor, media law expert, attorney and IJEA co-founder, who died April 12, 2014, at age 65 after battling pancreatic cancer. The full name is the IJEA James A. Tidwell Award for Excellence in Scholastic Media Education.
Tidwell was a friend and adviser to IJEA members for more than a quarter century. An Oklahoma native, he joined the journalism faculty at Eastern Illinois University in 1987 and helped found IJEA in 1988. He served as IJEA's executive director until 2005, when he became chair of the EIU journalism department.
During his varied and accomplished career, Tidwell was a newspaper reporter and editor, a licensed attorney, an expert in media law and the First Amendment, a book author, a professor, and a tireless advocate for student press freedom and excellence in scholastic journalism.
In selecting the annual award winner, IJEA seeks to honor a single outstanding high school media educator who has done exemplary work during this and the previous academic year.
In making its selection, the committee considers the following:
• Minimum of three years of advising experience, including this academic year.
• Candidate's resume.
• Candidate's response to five questions.
• Samples of student work advised by the candidate during this and/or the previous academic year.
The recipient is honored during the Illinois High School Association journalism tournament state series. The award includes an honorarium in memory of Diana Peckham, IJEA co-founder and past president.
---
Annual Deadline: March 15
---
The James A. Tidwell Award is given annually at the Advisers Breakfast at the IHSA journalism state finals in the spring. The winner is asked to give an acceptance speech, which is recorded and uploaded to IJEA's YouTube channel.
---
How to Nominate a Candidate
---
You may nominate a candidate by using our online nomination form below. Please note that we no longer use PDF forms for award nominations.
---
Online Form
---
Click here to access the online nomination form for this award.
---
James A. Tidwell Award Winners
---
2021*
Logan Aimone
Newspaper Adviser
University of Chicago Laboratory High School (Chicago, Cook County)
Watch Logan's Acceptance Speech HERE
• "Logan is recognized as one of the top advisers in our state," said Sally Renaud, journalism faculty at Eastern Illinois University and former director of IJEA. "When all advisers are struggling with handling so much uncertainty and daily changes, Logan has proved himself to be a leader in the state and on the national stage."
• Aimone was hired for the U-High Midway position in 2015 after the retirement of the legendary Wayne Brasler, himself a member of the IJEA Hall of Fame.
• Since then, formal national recognition of U-High Midway has included a Columbia Scholastic Press Association Silver Crown, National Scholastic Press Association Online Pacemaker and Newspaper Pacemaker Finalist, and top 10 ranking in four categories of the NSPA Best of Show (print newspaper, website, COVID-19 coverage and podcast).
• Individual students have been honored for their entries in NSPA Individual Awards, JEA National Student Media Contests and the IJEA Newspaper and Digital News Media contest.
• In comments submitted as part of his nomination package, Aimone noted that the pandemic had given him an opportunity to re-examine traditional definitions of journalistic objectivity and ponder journalists' role in the erosion of democracy.
• On his approach to teaching journalism:
"I will encourage students to pursue truthful journalism through curiosity, fairness and transparency — not just 'covering both sides."
*Logan was presented with his award in 2022 due to COVID-releated delays.
---
2020* 
Dr. Dan Kerns
Newspaper, Yearbook & Broadcast Adviser
Richwoods High School (Peoria, Peoria County)
Watch Dan's Acceptance Speech HERE
• Longtime adviser of perennial award-winning print newspaper and yearbook
• Longtime adviser of student-produced daily television news broadcast
• On first getting involved with scholastic journalism and IJEA:
"I did not set out on this decades-long journey with this end in mind; it just happened, the beginnings of which may be a familiar story for many. As a young and new adviser, I attended an IJEA meeting, knowing I had much to learn when I took over the newspaper at our school. I left the meeting having talked with James Tidwell, whose warm embrace, quick wit and smile convinced me that I could benefit the group. 'I think you should get involved…,' he told me. James Tidwell made me feel welcomed and wanted, perhaps even special. That was one of his gifts."
• On his approach to advising student journalists:
"The students have ownership in the end product. It's theirs. Their name is on it. They are protective of it, care for it and nourish it. The students learn to be critical thinkers, and their educational experience is so much richer."
• On the rewards of being a journalism teacher and adviser:
"The time spent in the studio and newsroom is magical. The food — you certainly had to have food — the laughter, the sing-alongs and sometimes serious discussions and struggles some students faced were all a part of the package. There would be van rides to conferences and to the IHSA sectional/state competitions. Dunkin Donuts in the morning and ice cream on the way home — and lunch stuck in there some place. We would have unannounced 'pop-up parties in the classroom.' These experiences have melded into wonderful memories and lasting friendships. The students have made my life a much richer experience, and the Tidwell award is as much theirs as mine."
*Dan was presented with his award in 2022 due to COVID-releated delays.
---
2019 
Dennis Brown
Newspaper & Digital News Adviser
Huntley High School (Huntley, McHenry County)
Watch Dennis' Acceptance Speech HERE
• Longtime adviser of perennial award-winning print and digital news publication, The Voice
• Coach of Huntley journalism teams that have placed second in the IHSA state tournament three times and third place twice
• From his 2019 award ceremony:
"The stories of support for Mr. Brown exemplified the kind of stories the very best educators receive. He is beloved by his students, who rise to the occasion for him and continue to meet those expectations long after they leave Huntley H.S."
• From his 2019 award ceremony:
"His leadership with NISPA and IJEA, as well as recently with the Local Committee for the national high school journalism convention, are but some of the ways Mr. Brown shows his leadership and his passion for scholastic journalism."
---
2018
Rodney Lowe
Former Newspaper Adviser
Evanston Township High School (Evanston, Cook County)
Watch Rodney's Acceptance Speech HERE
• Adviser at Evanston Township High School for 31 years
• Career total of 36 years of advising
• Evanstonian was selected as one of 50 best papers in the nation by the National Scholastic Press Association in 2008 and 2012
---
2017
Brenda Field
Yearbook Adviser
Glenbrook South High School (Glenview, Cook County)
Watch Brenda's Acceptance Speech HERE
• Adviser at Glenbrook South High School
• State Director for Illinois with the Journalism Education Association
• Leader for Speech Rights of Student Journalists law, passed in Illinois in July 2016
• Master Journalism Educator (certified by national JEA)
---
2016
Cathy Wall
Newspaper Adviser
Harrisburg High School (Harrisburg, Saline County)
Watch Cathy's Acceptance Speech HERE
• Longtime adviser at Harrisburg High School
• Champion for Speech Rights of Student Journalists law, passed in Illinois in July 2016
• Master Journalism Educator (certified by national JEA)
• Longtime IJEA Board member
• Director of the Southern Illinois Press Association
---
2015
Janet Levin
Newspaper Adviser
John Hersey High School (Arlington Heights, Cook County)
Watch Janet's Acceptance Speech HERE
• Longtime adviser at John Hersey High School
• Champion of student editorial freedom and empowerment
• Master Journalism Educator (certified by national JEA)
• 2009 JEA Medal of Merit recipient
• 2009 JEA Teacher Inspiration Award recipient
---
2014
Mike Doyle
Newspaper and Yearbook Adviser
North Belvidere High School (Belvidere, Boone County)
Watch Mike's Acceptance Speech HERE
• Longtime adviser at Belivdere High School and Belvidere North High School
• Champion of student editorial freedom and empowerment
• IJEA board officer
• Longtime professional journalist
• Kettle Moraine Press Association Hall of Fame inductee
• Certified Journalism Educator (certified by national JEA)
• 2014 JEA Lifetime Achievement Award recipient
---
Illinois Scholastic Journalism Educator of the Year
---
2013
Laurie Bielong
Newspaper Adviser
Belleville West High School (Belleville, St. Clair County)
Watch Laurie's Acceptance Speech HERE
• Longtime adviser, Belleville West High School
• Champion of student editorial freedom and empowerment
• IJEA board member
• Southern Illinois School Press Association executive director
• Illinois High School Association Journalism Advisory Committee member
---