IJEA Friend of Scholastic Journalism Award
---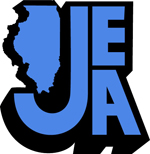 ---
Honoring Those Committed to Student Media
---
May 1 Submission Deadline
---
Each year, the IJEA honors an individual or group that has demonstrated outstanding commitment to scholastic journalism. In selecting honorees, the IJEA seeks to recognize those individuals and groups who have supported our mission in the following ways:
• By assisting IJEA and/or its advisers/members in promoting high standards in scholastic journalism and in elevating the status of media programs in secondary education.
• By supporting opportunities for interaction of student staffs, teachers and those in the professional media whenever possible.
• By serving as an exemplary model for students in secondary media programs.
---
Annual Deadline: May 1
---
The award is presented at the annual IJEA Fall Conference held at the University of Illinois. Past recipients include the Illinois Press Foundation, the Illinois High School Association, newspaper publishers and association directors.
---
How to Nominate a Candidate
---
You may nominate a candidate by using our online nomination form below. Please note that we no longer use PDF forms for award nominations.
---
Online Form
---
Click here to access the online nomination form for this award.
---
Previous Winners
---
2019
Dr. Sally Renaud
Executive director, Illinois Journalism Education Association, 2005-2019; professor and chair, Department of Journalism, Eastern Illinois University
2017
Lynn Holley-Bruns
Lecturer of journalism, University of Illinois Urbana-Champaign, and executive director of the IJEA Fall Conference (2004-2017)
2016
Linda Jones
Dean of undergraduate studies, Roosevelt University, and executive director, Scholastic Press Association of Chicago
2015
College of Media and Department of Journalism, University of Illinois at Urbana-Champaign
(Award accepted by Jan Slater, dean, and Lynn Holley, UIUC journalism faculty member and executive director of the IJEA Fall Conference)
2014
Susie Knoblauch
Journalism tournament administrator, Illinois High School Association
2013
Dann Gire
Film critic, Daily Herald (Arlington Heights)
NOTE: Watch Dann's acceptance speech here.
2012
Karen Waldron
Administrative aide, School of Journalism, Southern Illinois University Carbondale
2011
George Q. Wilson
Publisher, Harrisburg Daily Register
2010
No award given
2009
Bruce Dold
Editorial page editor, Chicago Tribune
2008
Dr. W. Manion Rice
Professor emeritus, School of Journalism, Southern Illinois University Carbondale
2007
Richard P. Johns
Executive director (retired), Quill and Scroll Society
2006
Illinois High School Association
(Award accepted by Marty Hickman, IHSA executive director, and Susie Knoblauch, IHSA administrator for journalism)
2005
Illinois Press Foundation
(Award accepted by Kim Filson, IPF director of education services)