Press On!
---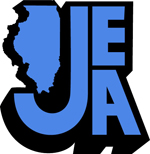 ---
Original and Shared Content from IJEA
---
Illinois Journalism Education Association
2501 Chatham Road, Suite 200
Springfield, IL 62704
773-771-8582


[email protected]
---
"Press On!" is the name of our website's section for original and shared content. The credit for the title goes to Arlington Heights Daily Herald film critic Dann Gire, who concluded his address at our 2013 Fall Conference by exhorting his audience "to press on!"
Dann received that year's Friend of Scholastic Journalism Award, and in the course of accepting the honor he delivered an impassioned brief on behalf of scholastic journalism. The video of the speech is well worth watching in its entirety (you can find it here).
---
Why We "Press On!"
---
We love Dann's phrase for several reasons. First and foremost, it works as an inspiring personal exhortation: "Keep moving forward! Don't let up!"
But taken literally, with "Press" meaning a printing press, "Press On!" also works as an imperative ("Turn on the printing press!") and as a declaration ("The printing press is running!"). Taken metaphorically, with "Press" meaning the news media, the phrase resounds with the power and vitality of a nation's free press humming along at full speed.
---
What's in "Press On!"
---
So in the spirit of Dann's semantically rich phrase we offer this section, where our goal is to publish useful, engaging material for journalism advisers and students. You can find our original and shared content via the links listed below.
And remember: Press On!
---