What Is IJEA?
---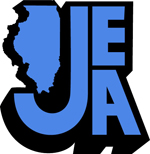 ---
A Brief Overview
---
The IJEA is a 501(c)(3) nonprofit organization that works with Illinois scholastic journalism teachers and media advisers to promote high standards in student publications. Through competitions, conferences, workshops and mentorships, we seek to elevate the status of student media programs in secondary schools across the state.
Founded in 1988, our organization is based in Springfield, where we are headquartered in the Illinois Press Association/Illinois Press Foundation building.
Prior to June 1, 2019, we had been located for more than 30 years in the Journalism Department at Eastern Illinois University.
The IJEA executive director is Prof. Linda Jones, associate professor of journalism at Roosevelt University in Chicago. She can be contacted by email at [email protected].
---
What We Do
---
We are affiliated with the Journalism Education Association, a national organization based at Kansas State University. Our major events each year include:
The IJEA Fall Conference, organized by the College of Media at the University of Illinois at Urbana-Champaign
The IJEA Yearbook Contest
The IJEA Newspaper & Digital News Media Contest
The Illinois Journalist of the Year Contest
The selection of the IJEA All-State Journalism Team
The honoring of our Journalist of the Year and All-State Journalism Team with an awards luncheon each June in Springfield
We also work with the Illinois High School Association to promote and support the IHSA's annual journalism tournament and with the Illinois Press Foundation to promote the IPF's scholastic media initiatives.
In addition, we encourage and support the work of our fellow Illinois scholastic journalism organizations: Kettle Moraine Press Association (as it pertains to Illinois schools), Northern Illinois Scholastic Press Association, Scholastic Press Association of Chicago and Southern Illinois School Press Association.
---
How to Join
---
Membership with IJEA includes various benefits, including access to a large network of scholastic journalism advisers in Illinois, the IJEA newsletter, entry into our various contests and access to professional development opportunities, such as our mentoring program for new advisers.
To join IJEA, submit our online membership form, or you may fill out the PDF version and send it to Jenn Galloy, IJEA treasurer, at the address at the bottom of the PDF form.
---
How We Help
---
As stated in our bylaws, the purpose of the association shall be to assist scholastic media advisers and teachers in promoting high standards in scholastic media and to elevate the status of scholastic media programs in secondary schools across the state. The association will assist scholastic media advisers and teachers in all phases of advising and teaching. To do so, it will:
Actively seek to connect with new advisers and teachers.
Communicate with intermediately experienced advisers and teachers.
Provide ongoing educational support for veteran advisers and teachers.
Act as a clearinghouse for sharing ideas and maintaining data relevant to media education.
Support opportunities for interaction of student staffs, advisers and teachers.
Cultivate and maintain positive working relations with those in professional media operations.
Foster an ongoing awareness of educational and career opportunities in journalism and mass communications.
Recognize outstanding performance in and outstanding support for the field of scholastic media.
---