2010 All-State Journalism Team
---
Meet Our Honorees for 2009-10
---
Karen Baena
Managing editor and business manager
The Warrior newspaper
Lane Tech College Prep High School
Adviser: Seth Johnson
Andrea Behling
Editor-in-chief
North View newspaper
Belvidere North High School
Adviser: Mike Doyle
Nick Chaskin
Editor
U-High Midway newspaper
University of Chicago Laboratory High School
Adviser: Wayne Brasler
Will Fernandez
Video editor and assistant news editor
Gargoyle online news site
University of Illinois Laboratory High School-Urbana
Adviser: Dave Porreca
Cierra Goolsby
Feature editor
Purple Clarion newspaper
Harrisburg High School
Adviser: Cathy Wall
Jake Hamilton
Executive producer and Web editor
School daily broadcast and Prowler newspaper
O'Fallon Township High School
Adviser: Mary Dempsey
Jimmy Hibsch
Editor-in-chief
The Pacer newspaper
Rolling Meadows High School
Adviser: Stan Zoller
Andrea Perkins
Editorial board member
The Correspondent newspaper
John Hersey High School
Adviser: Janet Levin
Cazzie Reyes
Editor
The Shield newspaper
Richwoods High School
Adviser: Dan Kerns
Megan Thilmony
Editor-in-chief
The Oakwood Times newspaper
Oakwood High School
Adviser: Tim Lee
Carrie Willis
Editor-in-chief
BT Express newspaper
Bloom Trail High School
Adviser: Stephanie Kapaldo
---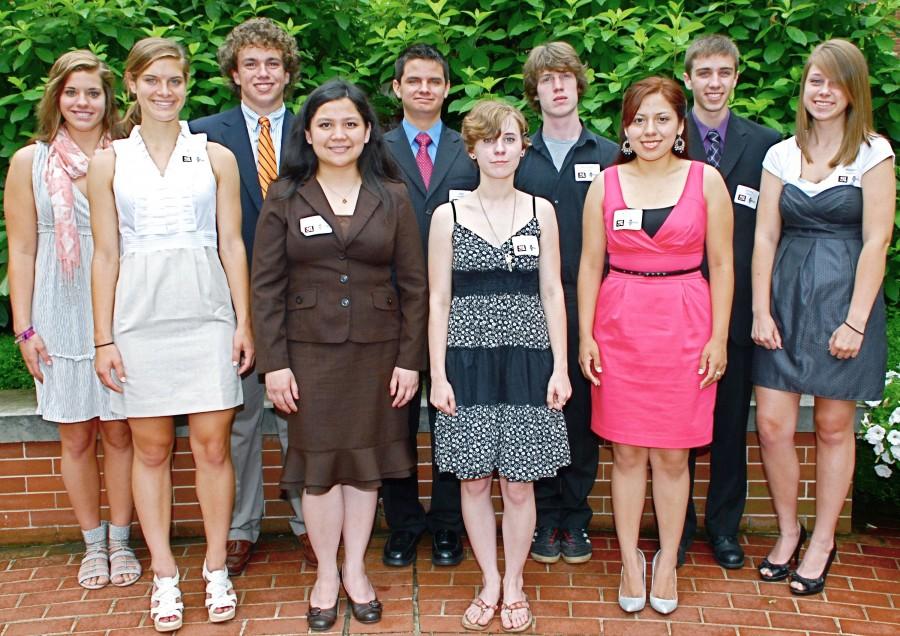 ---
MEET THE TEAM
Senior Karen Baena is managing editor and business manager of the Warrior newspaper at Lane Tech College Prep High School in Chicago, but it is clear that she loves everything about journalism. She dedicated afternoons to approaching businesses to buy advertising for the paper. She was the person who saw what needed to be done and chipped in: She covered events when news broke, took pictures when photographers needed help, helped with layout on production nights. The final product's look and content matter – it's the whole package. Her samples included breaking news coverage of student blocking traffic after a pep rally. a book review and some designs. She is advised by Seth Johnson.
As a freshman, Andrea Behling set a goal to be the editor-in-chief of the North View at Belvidere North High School. She lived out her goal this year as a senior, and in that capacity she learned from each position (and mistake) she had along the way. Whether it was from grammatical errors, staff struggles or leadership issues, Andrea found a way to learn from them and make the product and the experiences for her staff better. And she carried that to her position as president of Quill and Scroll as well. Her samples included front page and interior pages she laid out. She is advised by Mike Doyle.
Junior Nick Chaskin of the University of Chicago Laboratory High School sees his experience with the U-High Midway as more of a job rather than a class. He cites his functioning office as an active newsroom with nearly 50 members, most of whom were inexperienced at the beginning of the year. In that environment, Nick trains his editors and models by example, approaching interviews as conversations. He says that the group has grown into a team with high energy and a common goal of excellence. His samples were a cooking column, a Page One layout and a team-reporting piece on Union Station and the people who pass through it everyday. His adviser is Wayne Brasler.
Junior Will Fernandez has become more sensitized to the power of compelling storytelling. As assistant news editor and video editor of the Gargoyle at the University of Illinois Laboratory High School in Urbana, Will has covered stories traditionally, through blogs and through team-reporting, and he sees all elements of the stories as he tries new ways to tell them. He has worked hard to use photos, audio and video with text online to make the school paper a 'must-read' for everyone in the school community. His samples were an opinion piece of a message on a billboard, an audio slide show on U of I gameday and a story on low attendance at sporting events that included a survey and video interview package. He is advised by Dave Porreca.
Senior Cierra Goolsby has had to cover some sensitive stories, but she knows that if she "writes to relate" that her readers will see that what they do is important. As feature editor of The Purple Clarion at Harrisburg High School, Cierra made it her goal to focus on a section of the school in each edition of the paper so that by the end of the year she had touched a majority of the diverse interests in her school. She also had to work with the staff to make sure they were all on board with her vision, and she did that in part by helping each reporter get the information needed. Another way she did that was to acknowledge the things she had to improve herself and work on those skills. Her samples were an infographic, a front page layout and a story on Hospice. She is advised by Cathy Wall and her green pen.
Junior Jake Hamilton is the future of journalism. As the executive producer of the daily broadcast at O'Fallon Township High School and Web editor of its Prowler newspaper, Jake is responsible for managing the broadcast staff and creating and maintaining the site. In these capacities he paved the way for media advances at the school. Jake works long hours to get the news on the air and on the Web, practicing the art of convergence. His samples were broadcast samples and video, including graphics and online advertisements. His adviser is Mary Dempsey.
Journalism is a full-time job for senior Jimmy Hibsch, editor-in-chief of The Pacer at Rolling Meadows High School, and he thrives on covering both the routine and anything out of the ordinary. Perhaps his strongest attribute is his ability to think about the school's paper and his staff in broad terms, about their responsibilities, their reputation, their progress. To this end, Hibsch has worked with his staff to inspire them to perform with the passion and intensity he knows are needed for a paper to earn credibility. He inspires the people he works with and he has raised the level of coverage in his newspaper. He is advised by Stan Zoller.
As a member of the editorial board for the Correspondent newspaper at John Hersey High School in Arlington Heights, senior Andrea Perkins manages a different section each issue and writes. But it is the work that her fellow staffers ask her to do that makes her an MVP. They come to her to cover stories they need for their sections because they know the pieces will be well written. One of her samples, about the football team's losing seasons, provided a unique twist to a routine story. Other examples were stories on water and an athlete. She is advised by Janet Levin.
Junior Cazzie Reyes is responsible for story ideas, editing articles and editing artwork for The Shield student newspaper at Richwoods High School in Peoria. In addition, she lays out the front page and editorial pages of the paper. She is also the final pair of eyes before the paper goes to press. But one of the best things about Cazzie is the way she makes her staff feel. She creates a comfortable newsroom with staffers who love to research and write. The time after school joking and working with her fellow staffers is precious to her. Her samples were stories on school restructuring, a front page layout and an editorial on Don't Ask, Don't Tell. Her adviser is Dan Kerns.
Senior Megan Thilmony loves laying out the pages of The Oakwood Times, but it's the way she feels when a page comes together perfectly that makes her happiest. As editor-in-chief of the monthly edition of Oakwood High School paper in Fithian, her job also entails working with the daily editor-in-chief doing whatever needs to be done, whether it is taking pictures of unplanned events or preparing for the next month's issues. That team-player mentality was seen in her samples: a page from the monthly issue, a column and a picture filled with emotion. Her adviser is Tim Lee.
Junior editor-in-chief Carrie Willis treats The BT Express student newspaper at Bloom Trail High School as a child. If it is abused or doesn't meet her standards, she is disappointed. As she tries to encourage her staff to do their best, she practices what she preaches by going to meetings, school board meetings and press conferences and working hard to improve her own writing and editing. Through her writing she tries to educate everyone, not just one single demographic. She wants the paper to be relevant to the entire school. Her samples were stories on a student council event, a teacher and the ROTC. She is advised by Stephanie Kapaldo.
---