IJEA Lifetime Achievement Award
---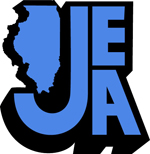 ---
Honoring Those Who Dedicated
Their Careers to Scholastic Journalism
---
Submission Deadline: March 15
---
Each year, the IJEA seeks to honor individual retired scholastic media educators for a lifetime of dedication to scholastic media education. Please note that membership in IJEA is not required for this award.
In selecting honorees, the IJEA seeks to recognize those individuals making a long-time commitment to scholastic media education but who are now retired. These can include:
• Those who are retired scholastic media educators and/or advisers of student media
• Those who are or have been strong advocates for scholastic media education
---
Annual Deadline: March 15
---
The award is presented at the annual All-State Journalism luncheon in June, held in Springfield in conjunction with the Illinois Press Foundation; however, it may not be presented every year.
---
How to Nominate a Candidate
---
You may nominate a candidate by using our online nomination form below. Please note that we no longer use PDF forms for award nominations.
---
Online Form
---
Click here to access the online nomination form for this award.
---
IJEA Lifetime Achievement Award Winners
---
2022
John Gonczy
• Longtime newspaper adviser and journalism teacher at Marist High School in Chicago
• IJEA president and board member
• Tireless proponent of IJEA's role in promoting and enhancing Illinois scholastic journalism
• Advocate and implementer of institutional changes to ensure IJEA's long-term stability as an organization, including recruitment of new board members, stewardship of financial investments, and collaboration with fellow scholastic journalism organizations on both the state and national levels
Dr. Sally Renaud
• Journalism Department, Eastern Illinois University, Charleston (Coles County)
• IJEA executive director for 14 years (2005-2019)
• Hosted and served as site organizer for the IHSA journalism tournament finals for more than a decade
• Coordinated the IJEA Yearbook Contest for 17 years (2005-2022)
• Advocate and implementer of institutional changes to ensure IJEA's long-term stability as an organization, including recruitment of new board members, stewardship of financial resources, and development of strong alliances and partnerships with professional journalists and fellow scholastic journalism organizations on both the state and national levels
---
2021*
Stan Zoller
• Longtime adviser at Rolling Meadows High School
• Former JEA Regional Director and IJEA State Director
• Pioneer Award from the National Scholastic Press Association
• Distinguished Adviser, Dow Jones News Fund
*Stan was presented his award in person in 2022 due to COVID delays
---