Fall Conference
---
IN-PERSON 2020 CONFERENCE CANCELED
Due to the COVID-19 pandemic, an in-person IJEA Fall Conference will NOT be held in 2020. Our Board of Directors is currently considering other options, including a virtual conference.
We will update this page with more information about the 2020 event as soon as it becomes available.  
---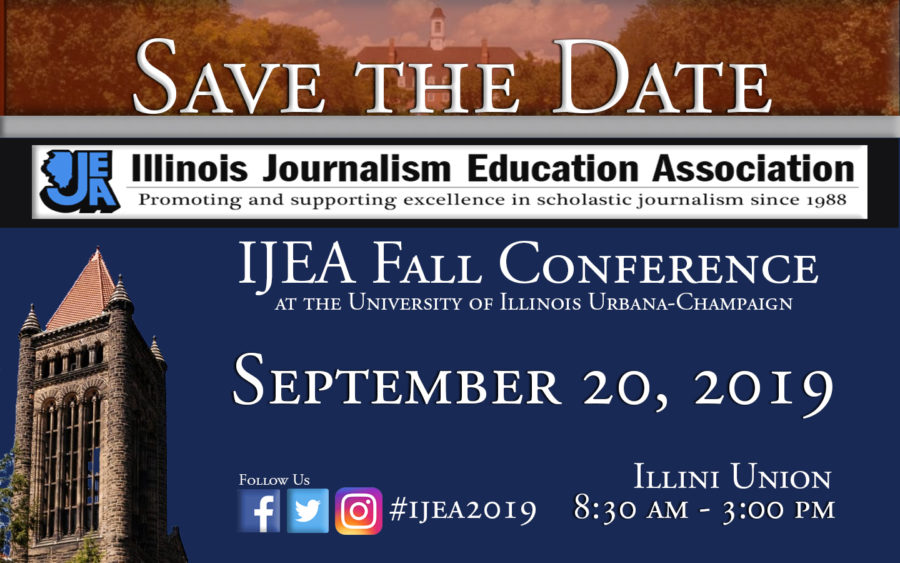 ---
2019 IJEA Fall Conference | Friday, Sept. 20
---
Illinois journalism teachers and advisers: If you're looking for the ultimate experience to combine motivation with education for your high school media staffs, please accept our invitation to the 2019 Illinois Journalism Education Association (IJEA) Fall Conference at the University of Illinois Urbana-Champaign. The event will be held on Friday, Sept. 20, 2019, in the Illini Union.
The last few years will be looked back on as important milestones for journalism. We are marking the start of a new era in the news media where journalists on all levels, including high school, are reasserting their influence and duty to find truth and hold the powers that be accountable. Our keynote speaker and individual sessions will address the challenges that lie ahead in this new age.
---
Keynote Speaker: Radio & TV Broadcast Journalist Melissa Forman
---
We are thrilled to have as our keynote speaker Melissa Forman, current morning host for WLIT 93.9 FM Chicago (LITE FM).
Forman grew up in Northbrook, Ill., and graduated from Glenbrook North High School and the University of Illinois at Urbana-Champaign.
Her broadcast experience includes eight years as co-host of "You & Me," a weekday morning talk-and-entertainment show on WCIU-Channel 26 in Chicago.
Forman's radio career started in Champaign, where she worked as an intern and received her first break imitating Bart Simpson on WLRW Mix 94.5. That led to a five-year on-air teaming with Jerome Ritchie.
She then moved to Cincinnati, where she worked at Mix 94.1. In 1999, she moved home to Chicago, where she worked at WKIE-92.7 Kiss FM. In 2001 she started hosting morning drive at WLIT until August of 2009, when she began co-hosting "You & Me" with Jeanne Sparrow.
Her on-air radio adventures have taken her flying in fighter jets, hot-air ballooning live on the air, sitting in 17,000 seats in chilly November at the U of I's Memorial Stadium in order to raise money for a children's charity, and living in a shopping mall for four straight days.
---
Live Conference Coverage on "Good Morning Illini"
---
We will stream Melissa Forman's keynote speech live on the "Good Morning Illini" (GMI) YouTube page.
GMI, a morning show broadcast live every Friday from Richmond Studio on the UIUC campus, will also preview the day's events.
As part of GMI's programming, the show's production staff would like to share any videos your students may have done in the past year or interview your students live if they have won an award for their work.
If you would be interested in having your students' video work shown on GMI, or if you would like any of your award-winning students to be interviewed on the show, please contact GMI adviser Kenneth Erdey at [email protected].
---
Breakout Sessions
---
Each year our conference offers a variety of sessions tailored to the interests and needs of high school journalists. Whether your students work on yearbook or newspaper, digital media or broadcast, they'll be sure to find a session that suits them.
We also offer a track designed for advisers, for which you can earn professional development credit.
Recent conferences have featured sessions on the following topics:
Propaganda and the media
Smartphone journalism
Analytics to make your program stronger
Concept-driven story telling
How to cover a tragedy
Tips on adding a broadcast element to your newscast
Plus individual sessions on editing; photography; better design for newspapers; yearbooks and websites; staff management and much more!
---
For Additional Information
---
Please keep your eye on the IJEA Conference website — https://media.illinois.edu/hands-media/ijea — for more information about the conference and the individual sessions we will be offering.
As we get closer to the 2019 conference date, details about the event will be posted there.
Instructions for registering your students and reserving your spot in the conference will be available at the conference website mentioned above.
See you on Sept. 20, 2019!
---