2019 IJEA All-State Journalism Team
---
Meet Our Honorees for 2018-19
---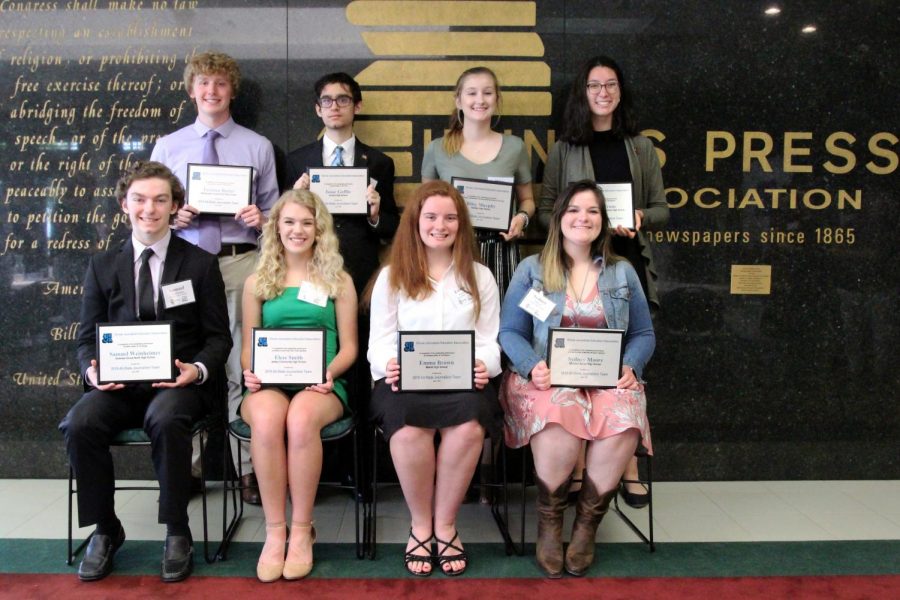 ---
The Illinois Journalism Education Association is proud to announce the following students as members of the 2019 IJEA All-State Journalism Team. They were scholastic journalists during the 2018-19 school year.
---
Emma Brown
Marist H.S. | Chicago, Cook County | John Gonczy, adviser
Senior Emma Brown of Marist High School is the managing editor of The Sentinel. She is responsible for interviewing/reporting, writing, editing, peer editing, taking photographs, meeting with administrators to get story ideas and coordinate press conferences. Her adviser is John Gonczy.
---
Trenton Butler
Washington Community H.S. | Washington, Tazewell County | Jennifer Reiser, adviser
Senior Trenton Butler is co-editor-in-chief of The Advocate at Washington Community High School. His responsibilities include coordinating coverage and layout design with fellow editors, peer coaching staff writers and photographers, editing stories through several drafts, as well as personally reporting, writing and taking photos. His adviser is Jennifer Reiser.
---
Will Foster
Walter Payton College Prep H.S. | Chicago, Cook County | Michele Mowery, adviser
Junior Will Foster is the news, sports and features editor for the Paw Print at Walter Payton College Prep High School. He edits each issue of the paper as well as conducting peer review sessions, brainstorming sessions and idea pitch sessions. He also is a prolific writer for each issue. His adviser is Michelle Mowery.
---
Isaac Goffin
James B. Conant H.S. | Hoffman Estates, Cook County |David Gwizdala, adviser
Senior Isaac Goffin is the sports editor for The Crier newspaper at James B. Conant High School. He manages the sports section of the website by producing at least one article each week, posting sports articles and news to Twitter, and working with writers. He contributes to brainstorming, interviewing, writing, editing and posting articles to WordPress. His adviser is David Gwizdala.
---
Jack Gulley
Harrisburg H.S. | Harrisburg, Saline County | Cathy Wall, adviser
Senior Jack Gulley of Harrisburg High School is the news editor for The Purple Clarion. He is responsible for designing and creating news pages. He also writes and takes photos for the paper. His adviser is Cathy Wall.
---
Derik (DJ) McInturff
Herrin H.S. | Herrin, Williamson County | Samantha Goetting, adviser
Senior Derik (DJ) McInturff is editor, copy editor and writer of The Tiger Tattler newspaper at Herrin High School. In that capacity he fact checks every source, bringing interesting voices and views to each article, and truly put his heart into each piece. His adviser is Samantha Goetting.
---
Sydney Moore
Meridian H.S. | Macon, Macon County | Sheila Moore, adviser
Senior Sydney Moore is editor-in-chief of the Meridian High School Moments Yearbook. She is the student responsible for overall development and content of the book, including recruiting and training staff, assigning jobs setting and the production schedule. She is invaluable to her adviser, Sheila Moore.
---
Riley Murphy
Huntley H.S. | Huntley, McHenry County | Dennis Brown, adviser
Junior Riley Murphy is staff writer, photographer and the arts/entertainment editor of the Voice at Huntley High School. She provides good ideas, helps to plan each issue, helps with editing of each article, stays on top of the photo/art people and contributes to the discussion of cover ideas. She is advised by 2019 James A. Tidwell Award for Excellence in Scholastic Media Education winner Dennis Brown.
---
Elese Smith
Jersey Community H.S. | Jerseyville, Jersey County | Beth Morgan, adviser
Junior Elese Smith is the editor-in-chief of the Jersey Community High School 2018-2019 yearbook: "Life in Color." In that capacity she created the overall theme, designed page layouts, and oversaw individual pages and staff. And one of the things that made her so invaluable is the way she picked up assignments when some members of the staff left after first semester. Her adviser is Beth Morgan.
---
Eve Snoeyink
Normal Community H.S. | Normal, McLean County | Brad Bovenkerk, adviser
Junior Eve Snoeyink is editor-in-chief of Inkspot at Normal Community High School. She works with other editors to run pitch meetings, assign stories and photos, edits stories. She oversees the running of social media accounts and also assists in the livestreaming of sports and video productions/editing in class. Her adviser is Brad Bovenkerk.
---
Johanna Stephens
St. Charles North H.S. | St. Charles, Kane County | Alice Froemling, adviser
Senior Johanna Stephens is the editor-in-chief at the Stargazer at St. Charles North High School. She plans and runs weekly staff meetings, editorial meetings and layout nights and monitors story completion. She coordinates staff events outside of school, too: a viewing of "The Post" at her house, Panera work nights, coordinating rides for underclassmen. Her adviser is Alice Froemling.
---
Amanda Stickels
Prospect H.S. | Mt. Prospect, Cook County | Jason Block, adviser
Senior Amanda Stickels is the editor-in-chief of The Prospector at Prospect High School. She is responsible for writing at least one major story each issue, designing and editing numerous stories. She budgets the newspaper, including ads, serves on the executive board and conferences with reporters about their stories. Her adviser is Jason Block.
---
Emma Trone
University of Chicago Laboratory H.S. | Chicago, Cook County | Logan Aimone, adviser
Senior Emma Trone is editor-in-chief of the U-High Midway at the University of Chicago Laboratory High School. She is one of three students responsible for all aspects of the print and online editions, from story ideas and editing to page design and online production. She also represents the newspaper to the public at large. Her adviser is Logan Aimone.
---
Samuel Weinheimer
Downers Grove North H.S. | Downers Grove, DuPage County | Elizabeth Levin, adviser
Junior Samuel Weinheimer is feature editor of The Omega at Downers Grove North High School. He is in charge of originating, selecting and assigning feature stories, approving or rewriting headlines and photo captions for feature stories and attending all copy deadline nights and layout deadline nights. He is advised by Elizabeth Levin.
---
About the IJEA All-State Journalism Team
---
The All-State Journalism Team began in spring of 2005, when the Illinois Journalism Education Association recognized a need to honor those students who have proven themselves indispensable to their respective school media (e.g., yearbook, print or online newspaper, print or online newsmagazine, broadcast or other journalist media).
The students named to the All-State team are considered by their staffs and advisers as "most valuable players" — those students whose leadership, energy, dedication and expertise make their publications possible but whose main contributions often occur behind the scenes.
This award elevates student journalists who've put their publications ahead of themselves. They're the ones who are willing to sacrifice their spare time to make sure other people's stories are well edited. They're the ones who make sure a publication's pages are smartly designed, the headlines witty, the photos well composed, the website up to date and easy to navigate, the videos smoothly produced and the information in every story accurate. They're the ones who don't seek recognition but deserve it most of all.
Members of the 2019 All-State Team were honored June 1 at the IJEA Awards Luncheon in Springfield.
---
IJEA All-State Journalism Teams Since 2004-05
---
Our 2019 honorees join a long line of distinguished high school journalists who have earned All-State recognition since the competition began during the 2004-05 school year. Congratulations to all of our past winners, and we look forward to honoring many more outstanding scholastic journalists in the years to come!
---
---
---
---
---
---
---
---
---
---
---
---
---
---
---