IJEA All-State Journalism Team
---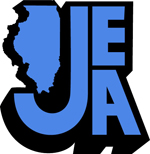 ---
NEW EXTENDED Submission Deadline:
11:59 p.m. April 6 of Current School Year
---
NOTE TO ADVISERS: Because of the extraordinary circumstances of the COVID-19 pandemic, we are extending our 2020 nomination deadline to 11:59 p.m. Monday, April 6. Good luck to all! 
---
NOTE ABOUT FEES: If you owe a $25 membership fee and/or a $10 nomination fee, you don't need to submit a check until April 19. If that date poses a problem under current stay-at-home conditions, please contact IJEA Executive Director Linda Jones at [email protected].  As long as you've submitted a 2019-20 membership form, your students will be eligible even if you haven't yet paid your membership fee.
---
---
What Is the All-State Journalism Team?
---
Since the spring of 2005, the Illinois Journalism Education Association has named an All-State Journalism Team, recognizing those students who have proven themselves indispensable to their respective school media (e.g., yearbook, print or online newspaper, print or online newsmagazine, broadcast or other journalist media).
IJEA began the All-State Journalism Team as a way to recognize those students who are "most valuable players" — those students whose leadership, energy, dedication and expertise make their publications possible but whose main contributions often occur behind the scenes. This is what makes the All-State Team different from other high school journalism honors. It's not about the byline. We're not selecting this year's best writer, photographer, designer or broadcaster — although many All-State honorees would do just fine in those kinds of contests!
Instead, we're choosing those student journalists who've put their publications ahead of themselves. They're the ones who are willing to sacrifice their spare time to make sure other people's stories are well edited. They're the ones who make sure a publication's pages are smartly designed, the headlines witty, the photos well composed, the website up to date and easy to navigate, the videos smoothly produced and the information in every story accurate. They're the ones who don't seek recognition but deserve it most of all.
---
Eligibility
---
All Illinois student journalists in grades 9-12 are eligible to be nominated by their advisers, who must be members of the Illinois Journalism Education Association. Nominations may not exceed two students per school. If two students are nominated from the same school, they must represent different publications or programs (e.g., yearbook and newspaper).
---
IJEA Membership Requirement for Advisers
---
Nominating advisers must be IJEA members.
To join IJEA, complete and submit our online membership form OR our PDF membership form. In either case, send your $25 membership fee to: Katie Comeford Fernandez, IJEA Treasurer, 2221 W. Belmont Ave. #204, Chicago, IL 60618. All necessary payment instructions are included in the membership forms.
Questions? Contact Katie: [email protected]
---
Selection Process
---
Students must be nominated by their adviser to be considered for the All-State Journalism Team. A committee consisting of professional journalists will select the winners. For a student to be considered, the following items must be submitted:
Online nomination form. This form will ask for information from both the adviser (nominator) and student (nominee).
A nomination statement in which the adviser discusses why the student should be named to the IJEA All-State Journalism Team.
Three student work samples from the current school year.
A brief text document in which the student discusses the background and significance of each work sample.
An essay in which the student discusses her or his journalism activities during the current school year.
A color "headshot" photo of the student, to be posted on the IJEA website and in the IJEA newsletter if the student is selected.
A $10 nomination fee. Payment instructions are included in the nomination form.
---
Deadline for Entry
---
The online nomination form and all supporting documents must be submitted by 11:59 p.m. on March 30 of the current school year.
NOTE: As mentioned above, the deadline for 2020 has been extended to 11:59 p.m. April 6.
---
Notification
---
IJEA will notify the selected All-State Team members and their advisers in early May.
---
Award Presentation

---
The team is honored each year in Springfield at a luncheon co-hosted by IJEA and the Illinois Press Foundation.
Each member of the All-State Journalism Team receives a plaque. All members, their parents and advisers are invited to the event. IJEA is grateful for the continued support of the IPF.
NOTE: In response to COVID-19, the IJEA's annual awards luncheon in Springfield will be replaced with a virtual event on May 30. Details will be provided to 2020 team members and their advisers.
---
Previous IJEA All-State Journalism Teams
---
Our latest honorees join a long line of distinguished high school journalists who have earned All-State recognition since the competition began during the 2004-05 school year. Congratulations to all of our past winners, and we look forward to honoring many more outstanding scholastic journalists in the years to come!
---
---
---
---
---
---
---
---
---
---
---
---
---
---
---
---