IJEA Adviser Service Award
---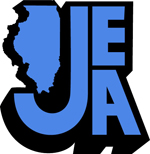 ---
Honoring Those Who Go the Extra Mile for Scholastic Journalism
---
Submission Deadline: March 15
---
Each year, the IJEA seeks to honor active or retired scholastic media educators and advisers for special initiative on behalf of scholastic journalism in Illinois.
Criteria for award recipients include the following:
• The nominee's membership in IJEA
• The nominee's initiative and service above and beyond normal classroom or advising duties
• The nominee's specific benefit to fellow media advisers or scholastic media students in Illinois, but the nominee may also have impact beyond the state
Past recipients of this award and other advisers who are members of IJEA are encouraged to recommend candidates to a representative on the IJEA board. Nominations must be made by an IJEA board member.
---
Annual Deadline: March 15
---
The award is presented at the annual All-State Journalism luncheon in June, held in Springfield in conjunction with the Illinois Press Foundation; however, it may not be presented every year.
---
How to Nominate a Candidate
---
You may nominate a candidate by using our online nomination form below. Please note that we no longer use PDF forms for award nominations.
---
Online Form
---
Click here to access the online nomination form for this award.
---
IJEA Adviser Service Award Winners
---
2020
Brad Bennewitz
• Galesburg High School (Galesburg, Knox County)
• Brad advised the GHS Budget newspaper at Galesburg High through 2022
• As of 2022-23, Brad advised the GHS Yearbook
---
2018 (two winners)
Amanda Bright
• Formerly Mattoon High School (Mattoon, Coles County)
• Amanda advised newspaper and yearbook at Mattoon High
Dave Porreca
• Formerly University of Illinois Laboratory High School (Urbana, Champaign County)
• Dave advised print and online newspaper at Uni High
---