2011 All-State Journalism Team
---
Meet Our Honorees for 2010-11
---
Michaela Eickhoff
Editor-in-chief
The Oakwood Times newspaper
Oakwood High School
Adviser: Tim Lee
Teagan Ferraresi
Editor-in-chief
The Correspondent newspaper
John Hersey High School
Adviser: Janet Levin
Meagan Flynn
Features editor
The Voice newspaper
Huntley High School
Adviser: Dennis Brown
Jake Hamilton
Editor-in-chief
OTHStoday news site
O'Fallon Township High School
Adviser: Kristin Strubhart
Sierra Lowe
Assistant news editor
North View newspaper
Belvidere North High School
Adviser: Mike Doyle
Michael McKenna
Sports editor
The Pacer newspaper
Rolling Meadows High School
Adviser: Stan Zoller
Sydney Scarlata
Editor-in-chief
U High-Midway newspaper
University of Chicago Laboratory High School
Adviser: Wayne Brasler
Kate Schroeder
Editor and designer
The Prospector newspaper
Prospect High School
Adviser: Jason Block
---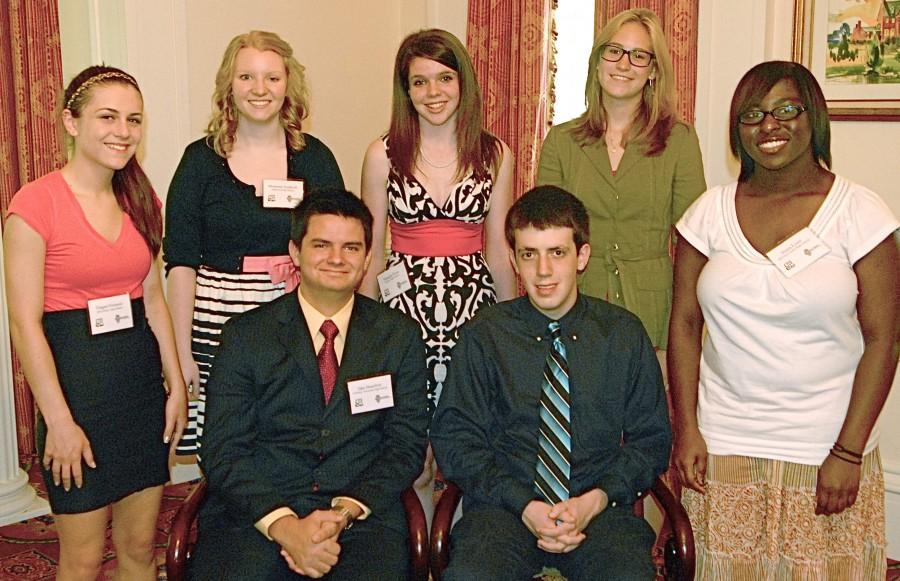 ---
MEET THE TEAM
Senior Michaela Eickhoff is a jack-of-all-trades. During her career at the Oakwood Times at Oakwood High School, she has had to write, edit, etc. But as editor-in-chief this year, she was in charge of the overall design and layout of the paper. She said she believes that good design can make a story go from good to great. And she spent hours each night of design week focusing on her theme with contrasting colors and bold fonts. But she also scoured the pages for errors: If a mistake or misspelled name got through, she felt as if it were her mistake. Her samples were Page-One  and interior designs and a personal column about her family's personal experience with breast cancer. She is advised by Tim Lee.
Teagan Ferraresi digs deep. In all her writing, Teagan, a senior, researches and plans her approach to the story's topic, considering questions and sources before she begins. One of her strengths is that comprehensive approach to seeing all angles of a story. And as editor-in-chief of The Correspondent at John Hersey High School, she has been able to lead by example. Although her real job entails proofreading, updating the publications' Facebook and Twitter pages and making sure the online product is updated, Teagan still is in the trenches, modeling for her staff the way to immerse oneself in a story. Her samples were pieces on a canned food drive, building construction and a junior with autism. She is advised by Janet Levin.
Meagan Flynn has a purpose in everything she writes. As the features editor for The Voice newspaper at Huntley High School, Meagan, a senior, has made it her mission to write about things that can change the way people look at the world. While her job also is to design pages, she takes great pride in the work she does with her staff. She coaches younger writers, helping them to go above and beyond in their stories; she sees her role, in part, to ensure that they are ready to take over when their time comes. Cultivating a spirit for the long-form, she has written about the last surviving farm families in the area, about long-forgotten traditions and a woman surviving a rare form of cancer, and in doing so she has tried to tell inspirational stories that will change the way people feel. She is advised by Dennis Brown.
For Jake Hamilton, journalism his senior year started during the summer, when he and his staff met to discuss the upcoming year. They decided to do a monthly show, do live-streaming of sporting events and revamp the convergence website. When we talk multimedia, Jake is held up as the example. He is most proud of turning OTHSProwler.com into OTHStoday.com to showcase content from all publications at O'Fallon Township High School. And all three goals not only have been reached, but they've been successful. And most satisfying to Jake has been his ability to use these to tell stories. His samples included an investigative piece on the school's finances and a monthly feature show. He is advised by Kristin Strubhart.
Sometimes it's the nuts and bolts that make a difference. And that's the case for junior Sierra Lowe, the assistant for the news section of the North View at Belvidere North High School. Someone has to cover the clubs, the daily happenings, and the troubles. And that's the role Sierra has stepped up to take. While perhaps not glamorous, the job is essential to recording the events of the school for the newspaper. As a new writer of news, Sierra had to learn to write without expressing her opinion, and she took on that challenge. And even though she is critical of her work, she also is happy to see people on distribution day reading what she and her staff have written. Her samples also included a piece on school violence. She is advised by Mike Doyle.
For junior Michael McKenna, sports are his life. He follows them constantly. And he found an outlet for his passion at The Pacer at Rolling Meadows High School. As sports editor, Michael writes articles, mentors his staff and lays out pages. But he's had to examine sports through more than rose-colored glasses, covering his school's football coach's legal battles, an honest look at sports injuries and at the heartbreak of a canceled season. And often his stories break around production time, so Michael is faced with challenging spot reporting. He goes the extra mile to ensure he is reporting responsibly, and he takes time to reinvent design to enhance the quality of all the sports pages. He is advised by Stan Zoller.
Although she is in charge of the entire staff, Sydney Scarlata feels that one of the most important things she does in her job as editor-in-chief of the U-High Midway newspaper is to teach. A junior at University High School in Chicago, Sydney works with both reporters and editors, teaching interviewing and writing skills and design and leadership skills respectively. She showcases her own talents in the center spread of the Midway, designing and creating such spreads as "A Guide to U-High" and the impressive "160 Degrees of Separation," which connected students and teachers through a visual family tree. Her samples also included an editorial on parking and a piece on a local market closing. She is advised by Wayne Brasler.
While there are some issues of The Prospector newspaper where senior Kate Schroeder only has a byline in an edge box, it's because she has spent the rest of the time dedicated to other staff members. She helps them achieve their best possible product, whether it be a story on Page One or a design inside the paper at Prospect High School. She often goes through stories three times during the editing process. And she continues to design pages. But she does keep her hand in writing, trying to do indepth or through unusual angles to tell stories, often collaborating with other staffers. Her samples included an editorial and a piece on traffic congestion. She is advised by Jason Block.
---