How to Join IJEA If You Are Not a Member
---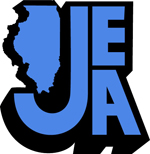 ---
Advisers: You must be an IJEA member for your students to be eligible for this contest. Our annual membership fee is $25, and we offer a lifetime-membership option for a fee of $250. For more information about the benefits of joining IJEA, click here.
---

BECOMING AN IJEA MEMBER
To join the Illinois Journalism Education Association so your students will be eligible for this year's contest, follow these steps:

1. Choose and fill out a membership form.
You may submit our online membership form OR download and mail in our PDF membership form. If you choose the latter, use the same mailing address as listed below for payment.

2. Pay your membership fee. 
Regardless of which type of form you choose, mail your $25 membership fee to:
Jenn Galloy, IJEA Treasurer
7405 Kenicott Lane
Plainfield, IL 60586
All necessary payment instructions are included in both the online and PDF membership forms.

3. Use our grace period if you need time.
If you are not a member at the time you submit your students' entries, you will have a seven-day grace period that begins with the contest deadline on March 15. We must receive your membership form and your $25 membership fee within seven days of the submission of your final entries for your students to become eligible.