IJEA Administrator of the Year Award
---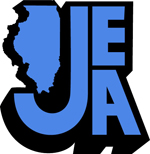 ---
Honoring Administrators Who Stand Up for Student Media
---
Submission Deadline: March 15
---
Each year, the Illinois Journalism Education Association honors an administrator who has demonstrated outstanding commitment to scholastic journalism and a free press. IJEA seeks to honor those who have:
• Actively supported advisers and journalism teachers
• Actively supported opportunities for interaction with student staffs, advisers and teachers
• Cultivated and maintained positive working relations with student staffs, advisers and teachers
• Fostered an awareness of educational and career opportunities in journalism and media
• Recognized outstanding performance in and outstanding support for scholastic media
---
Annual Deadline: March 15
---
The award is presented at the annual All-State Journalism luncheon in June, held in Springfield in conjunction with the Illinois Press Foundation. IJEA members are encouraged to submit nominations.
---
How to Nominate a Candidate
---
You may nominate a candidate by using our online nomination form below. Please note that we no longer use PDF forms for award nominations.
---
Online Form
---
Click here to access the online nomination form for this award.
---
IJEA Administrator of the Year Award Winners
---
Twelve administrators have received this honor, including two in 2014. Help us expand this roster by nominating an administrator you know who advocates and defends a strong student press!
---
2020
Eric Hurelbrink
Meridian High School (Meridian, Macon County)
---
2019
Brett Elliott
Richwoods High School (Peoria, Peoria County)
---
2014 (two winners)
Mark Eckmann
Belvidere North High School (Belvidere, Boone County)
Michele Sinclar
Mattoon High School (Mattoon, Coles County)
---
2013
Dave Johnson
Huntley High School (Huntley, McHenry County)
---
2011
Tina Cantrell
John Hersey High School (Arlington Heights, Cook County)
---
2010
Charles McCormick
Kaneland Community High School (Maple Park, Kane County)
---
2009
Richard Kirchner
Belvidere North High School (Belvidere, Boone County)
---
2008
Fred Schouten
Reavis High School (Burbank, Cook County)
---
2007
Thomas Campbell
Taylorville High School (Taylorville, Christian County)
---
2006
Kassie Patton
University of Illinois Laboratory High School (Urbana, Champaign County)
---
2005
Jim Butler
Harrisburg High School (Harrisburg, Saline County)
---
1995
Charles Dill
Johnsburg High School (Johnsburg, McHenry County)
---