Former colleagues, students mourn passing of Rodney Lowe
Watch the video above from the 2018 IJEA James A. Tidwell Award ceremony to see the passion and commitment that drove the late Rodney Lowe during his 30-plus years as a journalism educator
August 29, 2020
Rodney Lowe, retired adviser for The Evanstonian at Evanston Township High School and 2018 winner of IJEA's highest honor for journalism teachers and advisers, died Tuesday, Aug. 25. 
Mr. Lowe, who retired during the 2017-18 school year after 31 years advising The Evanstonian, received two major honors upon his retirement: IJEA's James A. Tidwell Award for Excellence in Scholastic Media Education and the national Journalism Education Association Lifetime Achievement Award. In his acceptance speech at the IJEA award ceremony, he spoke of the "privilege" of teaching journalism students.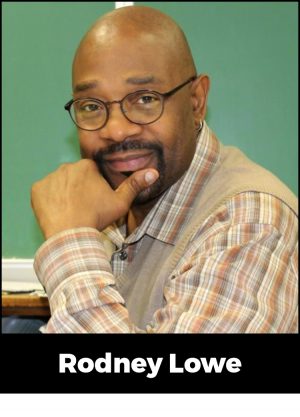 "Rodney was such a gift to his students and the scholastic journalism community," said Brenda Field, JEA board member and adviser at Glenbrook South High School. "I'll never forget the speech he gave at Eastern Illinois University when he accepted the Tidwell Award: so much love and light!" 
Dr. Sally Renaud, former executive director of IJEA, recalled of that event: "We were happy for Rodney when he was recognized with the Tidwell Award, and we were especially touched that his mother could join us for the ceremony. She was able to hear wonderful accolades about her son, who had worked with his students to empower them and to help them find their voices."
After his retirement, Mr. Lowe told patch.com, "Throughout my career, I just wanted my students to be good writers, responsible reporters and to be proud of the fact that they were part of an awesome newspaper."
The Evanstonian was selected as one of 50 best papers in the nation by the National Scholastic Press Association in 2008 and 2012, and the school was Illinois High School Association state champion in journalism in 2015. 
In a 2017 article in the Evanstonian about Mr. Lowe's retirement, his principal noted the paper's status in the school community: "Nothing has been a staple at ETHS like The Evanstonian," principal Marcus Campbell said. 
Mr. Lowe's colleagues say his students were all-important for him. "I don't think there was an adviser more passionate about his students than he was," IJEA member and retired college and high school educator Stan Zoller said.
Janet Levin, IJEA member and retired Hersey High School adviser, agreed. "Rodney loved his job, and even though he had struggles with administrations and some community members, he always told me he still loved his kids, and he loved the work." 
Megan Twohey, New York Times reporter and ETHS alumna, told the Evanston RoundTable, "Rodney Lowe was the first teacher who brought journalism to life for me, instilling in me the belief that reporting could help make the world a better place."
Levin recalled that Mr. Lowe, as one of the few advisers at journalism conferences and competitions who was African American, was aware of his status as a role model. "He wanted students of color to see a successful adviser with a staff who loved him," she said.
Mr. Lowe, an Indiana resident, happened into journalism when he dropped a college math class and replaced it with a communications class. He taught at Indiana high schools between 1982-1986 and worked for the Evansville Courier at night, writing obituaries.
IJEA will update information on funeral arrangements as it becomes available. 
---