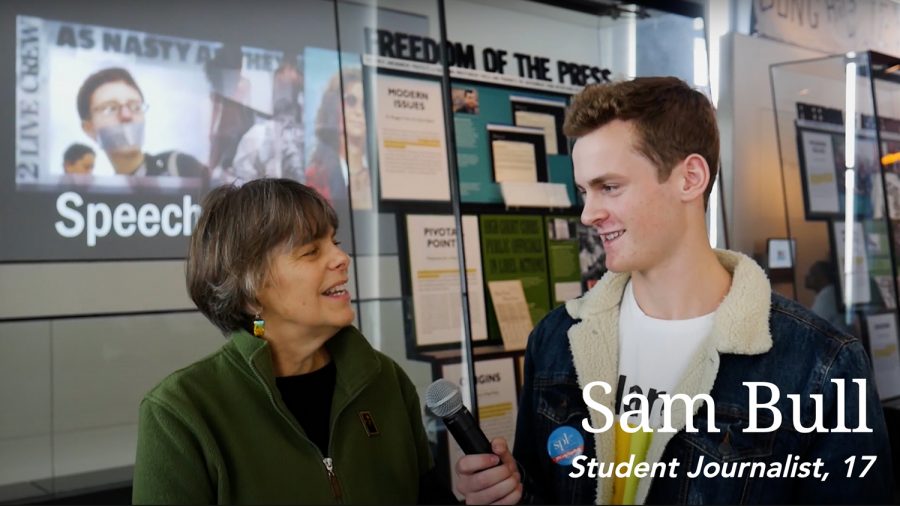 Downers Grove North student named 2021 Illinois Journalist of the Year
March 2, 2021
---
The IJEA board of directors is pleased to announce that Sam Bull, editor-in-chief of the Downers Grove North High School Omega, has been chosen as the 2021 Illinois Journalist of the Year.
Bull's adviser is Elizabeth Levin.
"I began as a young and immature member of the Omega, eager to learn about journalism and make a good-looking print issue," Bull wrote in his personal essay, which was part of his submission to the contest along with his transcripts, a comprehensive work portfolio and letters of recommendation.
"What I did not know was that my experiences would lead me down a path of understanding more valuable truths about journalism, expression, and justice as a whole.
"What I've learned," he continued, "is that journalism is not just a class. It's a window into the real world: a hands-on, real-life learning experience. Writing stories about local issues, events, and controversies that matter allows those who may not feel they can make their voices heard on their own."

According to IJEA president John Gonczy, Bull's portfolio reflected an outstanding level of professionalism and humanity.
"In all the years I have been involved in judging IJOY portfolios, I cannot recall a submission that rose to Sam's particular level of excellence," Gonczy said.
"He is articulate, self-reflective and shows a remarkable commitment to social justice. His leadership skills were also evident, along with his clear ability to work collaboratively and constructively with his fellow journalists."
Bull's portfolio will be submitted to the Journalism Education Association for consideration in the national Journalist of the Year competition this spring.
"We wish Sam all the best at the next level and we are pleased that he will be representing our state this year in the JEA competition," Gonczy said.
Bull is the third student from Downers Grove North to be named Illinois Journalist of the Year since the contest was established in 1989. He joins Natalie White (2018) and Abbe Murphy (2017) as recipient of IJEA's top honor. (White was named a finalist for the national award as well.) Levin taught and advised all three students.
Last spring, Bull was named to the 2020 IJEA All-State Journalism Team in recognition of his work in redesigning the Omega's  website, his reimagining of the publication's use of social media, and his leadership role in mentoring staff members.
"Students who need help naturally seek Sam: he is bright and encouraging," Levin wrote when she nominated Bull for the All-State Team. "When he doesn't know something, he's honest and promises to get back to them. These qualities encourage students to trust him with their own academic insecurities."
In his personal essay for the IJOY contest, Bull expressed an appreciation for those who paved the way for today's scholastic journalists.
"All and all, the best way I've been able to learn is by listening to those who know more," he wrote. "A particularly enlightening moment for me was interviewing legendary students' rights activist Mary Beth Tinker. Her words of encouragement and motivation included never hesitating in pursuit of the truth, never settling for a 'decent' story, and always seeking out and working to overcome suppressions of free press.
"Tinker's words made me realize that, again, this is more than just a class. This is an opportunity to give a voice to those who can't be heard and to convey the truth in a controversy-filled world.
"Also, it's an opportunity for myself and my fellow staff members to grow as people. Through journalism, we become better people, focused less on personal gain and more on the benefit of the community and the people as a whole. And that is priceless."
For a list of previous Illinois Journalist of the Year winners, please click here.
---