Debrief: Behind the scenes of the student press freedom bill in the House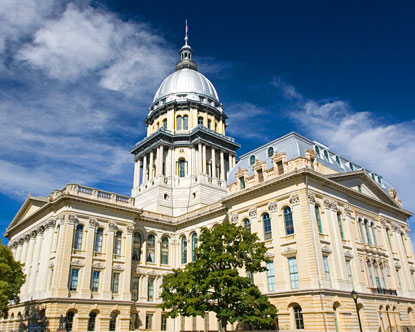 After the 114-0 vote in the Illinois House of Representatives on April 19, another step was taken on the path to ensuring free speech protections to the ethical and hardworking student journalists in Illinois.
The bill's lead sponsor in the House, Rep. Will Guzzardi (D-Chicago), has championed the message and purpose behind the legislation since day one. With his guidance, and the incredibly hard work of the JEA's Stan Zoller and IJEA State Director Brenda Field, House Bill 5902 ended up with a total of nine co-sponsors (six Democrats and three Republicans): Will Guzzardi – Steven A. Andersson – Robert Martwick – Peter Breen, Silvana Tabares, Carol Ammons, Carol Sente, Sonya M. Harper and Margo McDermed.
After the victory in the House, Rep. Guzzardi issued a press release, excerpted in part below:
The bill, known as the "Speech Rights of Student Journalists Act," guarantees protection from censorship to high school publications. The bill responds to several cases in which high school student newspapers and individual journalists were prohibited from publishing stories because administration objected to the critical nature of the content.

Presently, administration has broad authority to restrict the publication of content in student-run media. Under this bill, the only stories that could be censored are those that are libelous, contain hate speech, violate privacy laws, or incite students to disrupt the orderly operation of the school.

The bill is part of a national trend, as nine other states have enacted similar statutes.

Guzzardi, himself a former professional journalist and high school newspaper editor, noted that students should be encouraged to think critically about their school and community.

"Every day in student newspaper classes around the state, students are learning the best practices of fair and balanced reporting. Sometimes their stories are critical of practices in their school, but that's no reason those stories shouldn't be run," Guzzardi said.

"The student press is the incubator for future journalists, social scientists and reformers," Guzzardi added. "If we want a healthy public debate, we need the next generation to know that it's not only okay but encouraged to challenge authority and think critically about the world around them."
Take a look at the full roll call for the HB 5902 vote to see how your representative participated: THE VOTE
Illinois Sen. Daniel Biss (D-Evanston) is the chief sponsor of the bill as it moves to the Senate.
We will keep you updated here and through social media about our next steps to protect and encourage good scholastic journalism in the state of Illinois.
Leave a Comment