2010-11 All-State high school journalists honored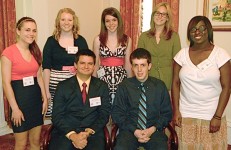 At a ceremony Saturday, June 4, 2011, at the Executive Mansion in Springfield, the IJEA honored the state's top high school journalists.
At this annual event, co-sponsored by the Illinois Press Foundation, students, their advisers and their families celebrated excellence in scholastic journalism. The keynote speaker was Dave Bakke, a columnist at the State Journal-Register.
Congratulations to the 2010-11 All-State Journalism Team
Michaela Eickhoff, Oakwood HS, adviser Tim Lee
Teagan Ferraresi, Hersey HS, adviser Janet Levin
Meagan Flynn, Huntley HS, adviser Dennis Brown
Robert Jake Hamilton, O'Fallon HS, advisers Kristin Strubhart, Ashlee Heady and Lindsay Kusmierczak
Sierra Lowe, Belvidere North HS, adviser Mike Doyle
Michael McKenna, Rolling Meadows HS, adviser Stan Zoller
Sydney Scarlatta, University HS-Chicago, adviser Wayne Brasler
Congratulations also to 2011 Illinois Journalist of the Year Alexandria Johnson of Rolling Meadows HS and runners-up Faiaz Khan  of U-High Chicago and Jake Hamilton of O'Fallon Township HS. Their advisers are Rolling Meadows' Stan Zoller, U-High Chicago's Wayne Brasler, and O'Fallon's Kristin Strubhart, Ashlee Heady and Lindsay Kusmierczak.
Tina Cantrell, principal at John Hersey High School, was honored as Administrator of the Year by the IJEA. Former IJEA Executive Director James Tidwell introduced Cantrell and cited her for her commitment to a free student press at Hersey. She was nominated by adviser Janet Levin.