IJEA selects All-State Journalism Team for 2016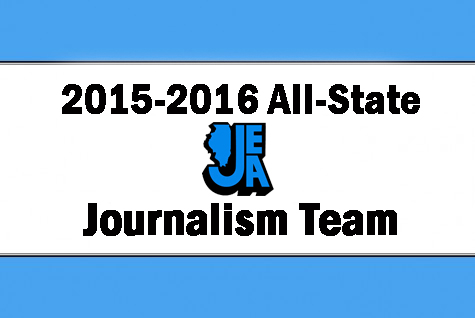 The All-State Journalism Team began in spring of 2005, when the Illinois Journalism Education Association recognized a need to honor those students who have proven themselves indispensable to their respective school media (e.g., yearbook, print or online newspaper, print or online newsmagazine, broadcast or other journalist media).
The students named to the All-State team are considered by their staffs and advisers as "most valuable players" — those students whose leadership, energy, dedication and expertise make their publications possible but whose main contributions often occur behind the scenes.
This award elevates student journalists who've put their publications ahead of themselves. They're the ones who are willing to sacrifice their spare time to make sure other people's stories are well edited. They're the ones who make sure a publication's pages are smartly designed, the headlines witty, the photos well composed, the website up to date and easy to navigate, the videos smoothly produced and the information in every story accurate. They're the ones who don't seek recognition but deserve it most of all.
Students selected for the All-State Team will be honored at the IJEA Luncheon in Springfield on June 4.
The 2016 All-State Journalism Team:
Grace Anderson  Uni-Chicago   Logan Aimone, adviser       
TillieAnn Boliard  Meridian   Sheila Moore, adviser    
Sydney Czyzon  Joliet West  Jenn Galloy, adviser
Solomon Davis  Marist   John Gonczy, adviser  
Meagan Hanley  Richwoods  Dan Kerns, adviser
Darien Harvey  Mattoon   Amanda Bright, adviser  
Evan Hatfield  Elk Grove  Mary Larson, adviser    
Devin Kane  Edwardsville  Amanda Thrun, adviser
Devin Martin  Huntley  Dennis Brown, adviser          
Kelly McCarthy   Hersey  Janet Levin, adviser
Madeline Mohatt    Kaneland   Kimberley Reese, adviser
Abigail Murphy   Downers Grove N  Liz Levin, adviser   
Brileigh Noble  Cisne  Trudy Hurd, adviser
Shreya Thakkar   Prospect   Jason Block, adviser         
Ivy Truong   Belleville East   Jaime Mannino, adviser
To nominate an MVP from your publication for next year, visit the All-State Journalism Team nomination page and submit it by March 15, 2017.
Leave a Comment