IJEA honors Linda Jones as 2016 Friend of Scholastic Journalism
Award-winner credits others with her success in helping student journalists
In accepting the Friend of Scholastic Journalism award, Linda Jones spoke of everyone — except herself.
From the McCormick Foundation to the Scholastic Press Association of Chicago advisers, Jones honored the others who, for decades, have worked with her to positively influence Chicago-area high school students.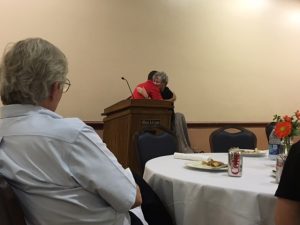 That humble attitude is exactly what earned Jones the IJEA award, according to the organization's vice president and Marist High School adviser John Gonczy.
"Linda Jones is simply a treasure in the state of Illinois when it comes to scholastic media programs," Gonczy said.
The Illinois Journalism Education Association presented the award to Jones at the University of Illinois Urbana-Champaign during the Fall Conference on Sept. 16.
Jones, who is dean of undergraduate studies at Roosevelt University, the executive director of SPAC and a long-time IJEA board member, noted that she was looking at the honor as one that was "for longevity—not just mine, but also the longevity of Scholastic Press Association of Chicago."
Her focus has always been squarely on the schools of the city of Chicago, and her dedication there is in conjunction with advisers who have been there for years.
"But the organization has been blessed with a core membership of dedicated journalism teachers and media advisers; the officers elected in SPAC's first year stuck with the organization for 10 to 15 years," Jones said.
"When we hit our 20th anniversary, I asked the SPAC members who were announcing the awards at our conference to say how long they'd been SPAC members when they introduced themselves. Twelve years. Fifteen years. One of them, 20 years. One of them had been with us the entire time."
It was when that dedicated band of advisers needed help that the McCormick Foundation stepped in, which according to Jones, saved the ability of students in Chicago schools to do journalism — and do it well.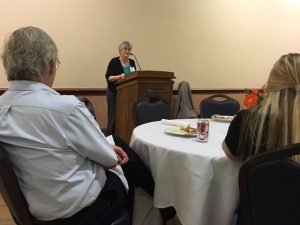 "We had hit some rugged patches with all the changes, especially in Chicago Public Schools, that meant the end of a lot of newspapers and the loss of a lot of advisers," Jones said.
"The [McCormick Foundation] grant allowed us to add web and broadcast categories to our mail-in contest; we added a Chicago High School Journalist of the Year scholarship; and we added two fellowships that send one teacher and one student to summer journalism workshops – something that can make a huge difference for a program."
Under the leadership of Jones, all of these SPAC contests, scholarships and workshops were seminal for student journalists, according to Gonczy.
"As an adviser in Chicago, I remain tremendously grateful to Linda for her numerous contributions to high school media programs in Chicago and the state of Illinois," he said. "She has been a staunch ally and loyal friend to me and is unfailingly 'just an e-mail away' if I have any questions, concerns or just need to vent."
Yet through all the accolades and positive steps forward, Jones remains resolute that she should bestow the credit for SPAC's success on all of those involved.
"This award is for all of the people who've made SPAC's longevity possible. I'm delighted to accept it on their behalf," Jones said.
Leave a Comment